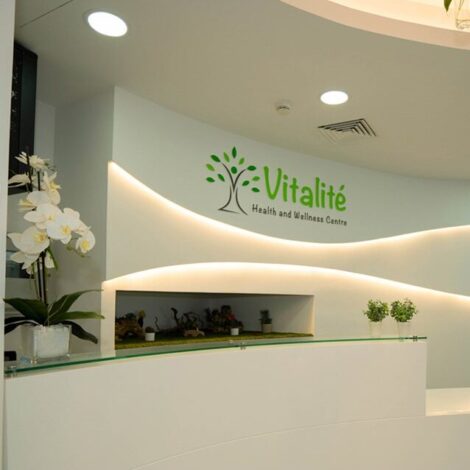 Vitality is the state of being energetic, strong & lively. Thus, Vitalite Health & Wellness Centre was created to help one being achieve optimal health at all stages of life. Vitalite delivers comprehensive and integrated approach towards enriching physical, mental and emotional well being, through focusing not only on the current conditions, but also rejuvenating and educating about healthy lifestyle. Our vision is to be the most trusted health partner for rehabilitation in the region.
We have assembled an elite team of healthcare professionals, who have vast expertise in Family Medicine, Paediatrics, Dentistry and Physiotherapy. However, our services are beyond only offering medical care, as wellness is just as important. As such, our dedicated exercise & fitness trainers work hand in hand with our medical team to provide holistic approach towards achieving wellness and lifestyle.
Education plays a vital role in the overall health and well being of our patients. Therefore, we constantly nurture our patients, clients & our community the necessary changes to bring sustainable rejuvenation to their lifestyle, through holding regular educational seminars & awareness initiatives.
We Are All Caregivers:
From the doctor, nurse, physio to the receptionist, engineer and cleaner, our staff are all equally important in looking after our patients. We make sure that the members we select to be part of our team are passionate about helping people and understand that they too are part of the care process.
Respect:
At Vitalite, we treat patients with utmost respect. We respect their beliefs, opinions & rights. Every patient has the right to be involved in the decision making of their treatment process, the right to choose their health provider & the right to experience a unique journey of wellness at our clinic.
Trust:
Building long lasting relationship with our patients is one of our top priorities. Hence, we encourage open & transparent communication atmosphere to build reliable connections with patients, staff, practitioners & the community.
Empowerment:
We educate patients about wellness & prevention. Thus, we empower them to become in control of their health & achieve sustainable results. We empower our practitioners by developing their medical skills set & treatment approaches.
Profit is not our aim, it is a result of good care
At Vitalite, we believe that profit should never be the driving force for any decision related to your care, and we enforce this philosophy in every way possible. You can rest assured that our doctors and therapists are not entitled for commissions for ordering investigations or prescribing medications, and we conduct routine audits of patient files to identify for any deviations from international practice guidelines, and encourage patients to speak up if they feel at any point that they have not been treated with absolute transparency.